Dry And Curing Cannabis
In order to ensure the best quality for your freshly harvested buds, you must prepare your buds with a process known as curing, which involves drying your buds slowly in a controlled environment, then keeping buds in glass jars over the course of a few weeks to let certain natural plant processes occur. The drying/curing process causes buds to smell better and for effects to feel more potent. It also reduces harshness.
Optimal Drying Environment:
Room Temperature – Around 70°F (21°C)
50% Humidity
Optimal Environment in Jars (Curing):
Room Temperature – Around 70°F (21°C)
58-65% Humidity
Growers dry and cure buds because they will not achieve their peak potency and quality if they're uncured. If you started with great genetics and you've taken care of your marijuana plants properly during their life, then curing is what makes your buds a trophy winner.
A  big part of why buds from medical marijuana dispensaries or cannabis cups often seem so special is they have been expertly cured. People who have never experienced buds prepared this way are often amazed by the smooth, pleasant experience of slow cured buds.
Drying & Curing: Overview
Curing begins as soon as you cut down your plant. So in order to get the most from curing, you need to master the process of drying your buds.
An important part of the curing process happens during the first few days, as you begin drying your buds. During this initial drying phase, the main goal is to let your buds dry out relatively slowly (usually 3-7 days) while protecting buds against mold and bacteria growth.
Curing starts as soon as you cut down your plant!
Most growers trim their buds and hang them upside down to dry until the outsides of buds are dry and the small stems snap when you bend them. Basically, once your buds will pop off you're ready to go 🙂
A relatively slow drying process (along with smart curing practices) gives you the best benefits. It doesn't need to take forever, but any time you "speed dry" your freshly harvested buds you're losing many of the benefits of curing. However, your buds are still improved by curing even if you overdry your buds or dry them a little too quick.
Note: If you use heat to speed dry your buds (microwave, oven, etc), buds will really taste terrible.
Here's an overview of the harvest / drying / curing cannabis process.
What you need:
Wide mouthed mason jars – 1 quart size

Place to Dry or Drying rack (optional) – I usually hang my buds from clothes hangers in my closet but you can hang buds from almost anything! String and creativity go a long way 🙂 It's only recommended to use a drying rack if there's high humidity or a lot of buds to be dried in a small space, because a drying rack can dry buds too quickly in average humidity conditions.

Hygrometer (optional) – I like the Caliber IV Hygrometer because it easily fits inside quart mason jars. This measures the humidity of the air inside your jar, so you can make sure it's not too humid or too dry for optimal curing.

Humidipaks (optional) – Boveda Medium 62% packs are cheap and specifically formulated for storing cannabis so it does not dry out or get crispy
Step 1: Cut down your plant
Some growers cut the plant down at the base and hang the whole plant upside down to dry. Others will cut off branches and hang them to dry. Still others will cut off individual buds so they can lay them out and dry them on a mesh screen or rack.
How should you cut down your plant?
It's tough to mess this part up! You can harvest your plant a piece at a time, and I've also seen growers trim their buds while they're still on the plant so they can hang their whole plant upside down to dry.
I personally cut down branches one at a time. Here's a plant that is halfway through being harvested.
Step 2: Trim away extra fan leaves
Before you start drying your buds, most growers will trim away extra leaves.
At the very least, you should trim away all your big fan leaves, though many growers also trim down the little leaves that grow on the buds.
This improves the appearance of your buds, and will provide a smoother experience. Too much leafy matter can make buds more harsh.
The amount of leaves you trim off is due to personal preference. However, like the last step, you want to leave more if you live in a very dry area. You want to cut off as much as you can if your area is humid, to help speed up the drying process and prevent mold. If it's very humid where you live than you may consider removing buds from branches while drying.
Step 3: Begin the slow drying process
Why should you dry your cannabis slowly? Drying your buds is the first part of the curing process, and important!
Optimal Drying Environment:
Room Temperature – Around 70°F (21°C)
50% Humidity
Here are some ideas to adjust your environment:
Air Conditioner – Cools Air & Lowers Humidity
Evaporative Cooler – Cools Air & Raises Humidity
Dehumidifier – Heats Air & Lowers Humidity
Humidifier – Heats Air & Raises Humidity
Heater – Heats Air & (Usually) Lowers Humidity
Buds which are quick-dried in a dehydrator/stove, via dry ice, or in a microwave taste terrible, smell even worse, and often leave you with a migraine or paranoia. When you quick-dry your buds, you are completely skipping over the most important part of the curing process.
Curing you cannabis properly makes up almost 50% of your final bud quality!
You can take the best cannabis in the whole world but if it's not cured it's going to be mid-quality at best!
There are many ways to dry your marijuana buds.
Hanging buds upside down to dry is considered the "standard" way of drying. You can get creative when coming up with ways to hang plants upside down.
You can dry buds by hanging them upside down from clothes hangers, string, almost anything you can think of. You can even hang the entire plant upside down. Personally, I prefer to hang buds upside down for the drying process.
However, you can dry your buds via many different ways.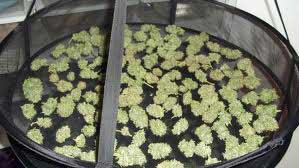 Some growers place their freshly harvested buds on a drying rack as pictured to the right.
A drying rack will dry your buds faster than most of the other methods because the stems are removed from the buds (and the stems contain a bit of water). Using a drying rack is the preferred drying method if you live in a humid area where mold is a problem, if you're drying a lot of buds in a relatively small space, or if you have huge colas or buds that you're worried might mold.
You can leave as much or as little stem as you want. The more you leave, the slower the dry.
The most important aspect of the drying process is to dry them slowly, and in such a way that it's easy for you to check on them regularly. So don't hide them in the back of a closet that's hard for you to get to. You need to be able to check on your buds every day, and more often is possible.
Step 4: Continue drying until outsides of buds feel dry to the touch, and smaller stems snap instead of bend about 4-7 days.
If buds are dry sooner than 4 days, it may mean you've dried your buds a little too quickly. Even if buds have been dried too quickly, they still benefit from the curing process, but it may take a little longer than normal for buds to be fully cured.
Step 5: Place your buds in jars
From this point, your goal is to store your buds in a controlled environment. You want to stabilize the relative humidity at around 60-65% when the buds are placed in an enclosed container. This is the correct environment to cure your marijuana buds to perfection. If you've taken your buds down when the smallest stems snap, but the larger ones bend, then chances are your buds will already create the perfect humidity when they're in the jars.
Optimal Curing Environment (in Jars):
Room Temperature – Around 70°F (21°C)
60-65% Humidity
Place your dried cannabis buds in jars for the "curing" process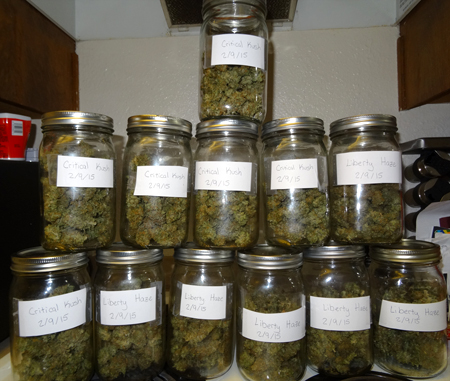 When the humidity is at 60-65%, your buds will feel completely dry on the outside, but won't crumble or seem dusty in your hands (which usually means the humidity is too low).
Here's how to jar your buds the right way every time, without any guesswork on your part.
The ideal storage containers for marijuana buds are wide-mouthed glass mason jars. These can be found pretty easily at big grocery stores, most craft stores, online. As cannabis cultivation has become more popular, these jars are appearing in more and more stores.
You want mason jars that hold 1 quart (labeled "Quart jars"). Each of these jars will hold about an ounce of dried buds (usually about 0.75-1.25 ounces of bud will fit in one jar, but it can be more or less depending on the consistency of your buds).
One-quart glass mason jars have proven to be a great size for proper curing. You want to fill each jar 75% full of buds, so there's still a bit of air at the top. If you shake the jars, you want the buds to be able to move around. If they're sticking together it means they're still too wet and you should leave the lids off for a little while to help them dry out.
If buds are sticking together in clumps when you try to shake the jar, it means they still have too much moisture and need to be dried further. Just like when buds are too dry, when buds are too wet they slow down the curing process, but it's even worse because it can cause mold. Never let buds sit in jars if they feel wet, or even moist on the outside!
Buds should always feel completely dry on the outside, and shouldn't stick together. If you ever smell "ammonia" it means they're too wet and bad bacteria is starting to grow
If you notice that any buds feel damp or moist, do not store them in the jars yet! Allow those buds to continue drying slowly until they start to feel dry on the outside before putting them in jars.If they're already in jars and feel moist, make sure to leave the tops of the jars off until the buds feel dry again.
Step 6: Curing (first few weeks): Open all jars regularly to inspect and air out buds
During the first few days, you may want to check even more often than once/day, especially if you are worried about mold or bacteria from too much moisture.
It's important that you're checking on your buds at least every 24 hours during the beginning stages, as described below. In addition to checking on your buds, it's also important to open the jars once a day, because buds need fresh air as part of the curing process.
If you smell ammonia or the outside of buds feel moist, it means buds are too wet and need to air out before closing the jars again. If it smells more like cannabis every day, it means you're doing it right!
For the impatient, this also gives you the opportunity to "try out" your new buds and see how they improve during the curing process 🙂
As mentioned already, the trick to a great marijuana cure is controlling the humidity of the environment. Ideally, you would like to keep your buds stored in an enclosed container with about 60-65%% relative humidity. This is the perfect amount of moist and dry to get the fastest and best curing process.
To be able to get a reading on your current humidity levels (so you can make sure they're perfect every time), you may want to invest in a tool called a hygrometer.
For the first week, you want to air out your jars for a few moments at least once a day. Just open all the jars and close them again once a day. While the jars are open, check on buds to determine the current humidity levels. You may also take this time to shake the jars and move buds around, to ensure there are no moist spots, and buds aren't sticking together in clumps. This is what you're checking for every time you open your jars.
Buds feel wet – Wet buds need to be placed outside the jar to dry for another 12-24 hours. Moist buds should not be touching each other! It is very important you react quickly if buds feel damp to the touch, as this is the most likely time for mold to grow.
> 70% humidity – When buds are too wet, your hygrometer will read greater than 70% relative humidity after buds are in jars with hygrometer for 24 hours. If buds are very wet, you may see the humidity climb up this high within just a couple of hours. If you see the humidity rising on your hygrometer at a rate of 1% per hour or more, you may want open the jars early, or at least keep a close eye, as your buds are probably too moist.
Buds feel moist – If you shake the jar at this point, you may notice that some of your buds are still sticking together. You're almost there, but buds are still a little too damp and you're at risk for mold or anaerobic bacteria. If you live in a normal to dry climate, you may be able to get away with just leaving the top off the jars for 1-4 hours. If you live in a humid climate, you may have to take the buds out of the jars and lay them out until the outsides begin to feel dry again.
65-70% humidity – When buds are slightly moist, your hygrometer will read 65-70% relative humidity after buds are in jars with hygrometer for 24 hours.
Buds are not wet, but also not brittle – You're in the cure zone! Your buds may feel a bit sticky to your fingers. Buds should move independently and not clump together in big bunches when you shake the jars.
60-65% humidity – When buds are in the cure zone, your hygrometer will read 60-65% relative humidity after buds are in jars with hygrometer for 24 hours.
Some growers prefer to keep it a little lower during curing, down to around 55%, especially if they're curing a whole lot of cannabis, because it helps prevents the chance of mold or "moist pockets" in the jars.
Buds are too dry – Buds feel brittle and crumbly. At this point, there is not enough moisture in the jars for the curing process to continue at a normal pace, and buds tend to cure much more slowly.
< 55% humidity – When buds are too dry to continue curing, your hygrometer will read less than 55% relative humidity, even after buds are in jars with hygrometer for 24 hours. If it's between 55-60%, don't worry too much! Curing will still take place, just perhaps a little bit slower.
Step 7: Long term storage
As long as buds remain consistently in the cure zone after several weeks, you can begin to open jars once/month.
Buds will continue to improve from curing for up to 6 months. After 6 months, further curing will not continue to have much effect. At this point you want to prepare the buds for long term storage to maintain their potency for as long as possible. For long-term storage (months), buds should be kept in air-tight containers (the wide-mouthed mason jars they've been curing in are perfect) and placed in a cool, dark environment. For serious long-term storage (6 months or more), you may want to consider vacuum sealing your buds, or even better, storing them in your freezer in tightly packed mason glass jars.
Properly stored buds can retain a lot of their potency for years
After curing for a year or more after harvest, buds will tend to produce more of a "mellow" effect, and will look a lot more beige than green, but other than that the effects stay mostly the same as long as buds are stored properly.
62% humidity – When buds are dry enough for long term storage, your hygrometer will read 62% relative humidity or slightly less. It's important that buds are not wet at all before long-term storage, or they may mold.
A great way to make sure buds don't contain extra moisture is to leave your cured buds in unopened jars for a few weeks first, to make sure the humidity reading is completely accurate before your store your buds somewhere you won't be able to easily check.