LED Lighting And Cannabis
LED grow lights are very popular among cannabis growers as an alternative to HPS grow lights. They tend to run cooler and also usually come with built-in cooling. They can often be plugged into a wall and simply hung over plants which is definitely easier than setting up an HID grow light. LEDs also have great penetration so they don't need to be moved frequently like fluorescent lighting.
Simply hang an LED light over your plants and start growing!
LEDs almost always have built-in cooling that pushes heat up and away from the plants (unlike HID bulbs which beam heat down on your plants and need to be cooled separately). As a result LEDs run very cool and many growers are able to get away without venting heat at all.
The smaller size LEDs can be plugged directly into the wall and hung up over your plant, without needing to do anything else. You can just plug them in and start growing!
Some growers believe LEDs produce more resinous bud. Combining LEDs with HPS grow lights seems to be getting some growers really great results, though more testing is needed.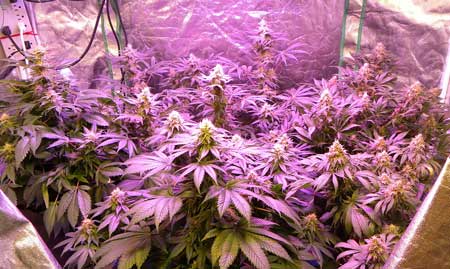 For growers who are looking to harvest 1/2 to 1 ounce of cannabis a month, LEDs may be your best choice. At this size, they are super low on electricity, run cool and need almost no setup! They get better yields than fluorescent lights but don't run as hot as an HPS of similar wattage.